Laptop & Other Mobile Devices Repair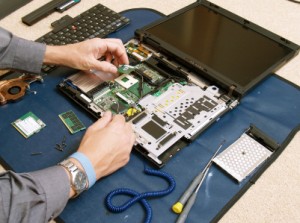 Are you experiencing issues with your laptop or mobile device within your organization? We know how important it is to have fully functional devices because they are the drivers of our businesses and economy.
Fast & reliable Laptop/Mobile repairs
Professional business repair services
Cost & time effective solutions for your business
To avoid extended periods of downtime we offer fast and cost effective solutions for laptop users. No matter what the issue may be nothing is too big or too small for our professionals to resolve. We fix a wide range of laptop makes and models. All Windows based laptops and Mac based laptops are services by our professionals.
Common Laptop Related Issues We Service:
Power connector loose or broken
Bad Motherboard or Video Card
Overheating and Shutting Down
Dim LCD Screen – screen not bright
Broken LCD Panel (Dropped or stepped on)
Keyboard not working (Spilled coffee / wine or juice)
"Blue screen of death"
The computer keeps on rebooting again and again
Noises and vibrations,
Noisy Computer problems
Spyware and Viruses
Your browser home page changed itself
Dataloss and Backup Data-Recovery
Motherboard Repair
LCD Replacement/Backlight Inverter replacement
Touchpad Replacement
DC Jack Repair
Keyboard Replacement
Over-heating issues
AND MORE!
It's our business to service yours!
For more information regarding our business computer services please use our submit support ticket form or contact us!  We look forward to servicing all of your business needs.